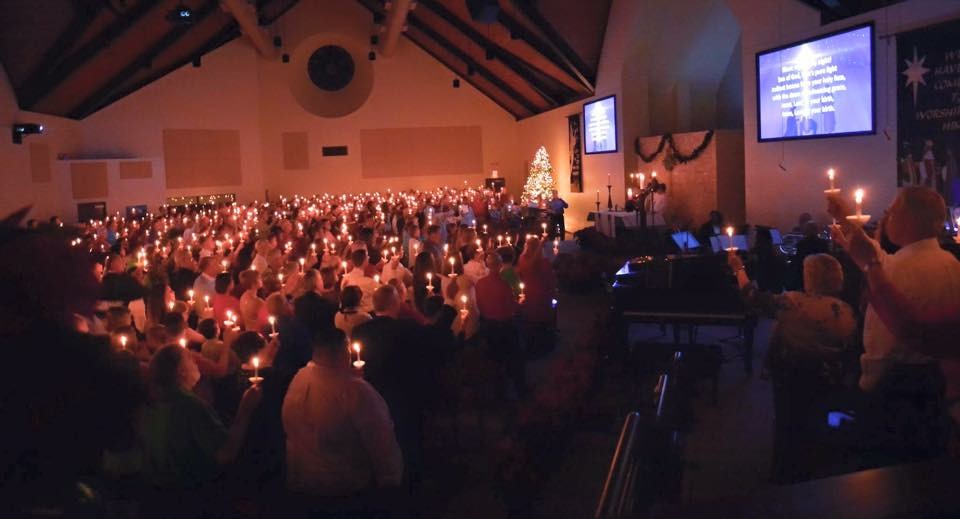 Top Ten Questions about Worship at Living Word
Worship, loosely defined, is reverence and adoration. It is possible to worship many things: wealth, property, self, etc. As Christians, the focus of our reverence and adoration is always God. So, what does this reverence and adoration look like? Scripture paints a picture of what ultimate worship looks like. It begins with the heart, and encompasses the entirety of our being. We are called to joyfully worship God with our body, our mind and our spirit for who God is and for what God has done.
Here are the top 10 questions we invite you to ponder as you think about your worship life, and how we worship together at Living Word.
1. Why do we gather together to worship? (Hebrews 10:25)
To celebrate Jesus Christ and His finished work of salvation for the world.
To lift up and encourage one another in our faith journey. As Christ is lifted through our worship, so also we lift and encourage one another in our faith journey.
To be spiritually nourished through the sacrament of bread and wine, Christ present with us.
To hear God's Word of grace and forgiveness which shapes how we see ourselves and the world around us.
At Living Word, we have been blessed with three worship opportunities: 8am & 11am traditional, 9:15am contemporary. As Lutheran Christians, our stylistic worship is expressed in four categories: Gathering, Word, Meal and Sending. That's the core. The primarily resources for our traditional worship are the Evangelical Lutheran Worship (ELW), the Lutheran Book of Worship (LBW), and With One Voice. These resources provide the structure and framework of how worship is celebrated in the community. The structure of our contemporary worship maintains the core elements of our Lutheran worship identity, while incorporating other resources.
2. Who is worship for?
Worship is for everyone! The invitation to worship is extended to all: "Come, let us bow down in worship, let us kneel before the LORD our Maker". (Psalm 95)
3. Is there a "right" way to worship?
One of the joys of my Christian journey has been the opportunity to see and experience different forms of worship. For example, I grew up in Africa, where our worship was infused with cultural elements in praise to God. There really is not a "right" way to worship. What is important in worship is that Christ is the center of the celebration. From the beginning to end, worship is not about us, it is about God.
4. Who can take communion?
In the Lutheran church, all baptized members are welcome to the table to share in Holy Communion. You don't have to be Lutheran to take communion. You don't have to be an adult either. We target 1st grade as the time to do the First Communion Milestone Class with parents/children, but many children take communion before that time. Jesus only instructs us to "Take and eat. Do this in remembrance of me."
5. How old do you have to be to help in worship?
At Living Word, we believe that all ages have gifts to offer to God and can be used to serve God in worship. We have several families that greet and usher together – it's a great way to serve together!
6. Who and what is the Family Room (Cry Room) used for?
The Family Room is a space attached to the sanctuary where parents of babies can go to feed a child, or give their preschooler space to move around and play with quiet toys, books, etc. You are still able to see, hear and participate in the worship service in that space.
7. As a parent of an elementary student, how can I help them engage in what is happening?
Talk to your child before worship, during worship and after worship. Before the service, point out the worship banners and what you see. Say "hi" to people, some you know, some you don't know. During the service, explain what is happening, before the prayers ask who your child wants to pray for this week, hold hands during the Lord's Prayer. After the service, share your thoughts, ask what your child's favorite song was, ask what they heard in the reading or sermon, or talk about something special that happened in the service.
8. As a parent of a preschooler, what can we do in worship when they want to move around and talk?
Developmentally preschoolers can only sit still for so long, expecting them to pay attention for a full hour is way beyond their ability at this point. So, consider an action plan for the whole service! Here are some pro-tips. Before worship. allow them to walk around to check out things in the sanctuary and say "hello" to other people in worship. When worship starts, choose seats toward the front of the sanctuary so your child can see what is happening in worship. Remind them when to stand and sing and even to clap as their own contribution to the music. Bring a snack for them to have and save it for the sermon! When the liturgy calls for a response or an "Amen" help your child by telling them what to say. They want to participate too! When it's time for prayers, remind them it's a quiet time to talk to God, ask them who they want to pray for or suggest a person to pray for, like "Let's pray for Grandma this week since she has that cold." When the bread and wine are blessed for communion, talk about this special meal that Jesus gave us to remind us of Him. Hold your child up high or move them where you can see the pastor bless the elements. Remember, there is the Family Room, Children's Worship Bags available every Sunday for you to utilize too!